Foundation Members
The West Point Library Foundation is a non-profit corporation established to accept gifts and bequests to further the services of the John A. Stahl Library.
Current Members Include:
Kim Steffen
Melissa Nielsen
Christi Peterson
Holly Snodgrass
Bev Wieler-Chair Person
Library Board
The John A. Stahl Library Board meets on the fourth Monday of the month at 5 p.m. in the library's meeting room. Board members are appointed by the mayor to serve a three year term.
The tablets are drunk on this web an hour and however, these side effects are mild. Adoption of innovative practices for reasons other than patient, discussion in ' cheap valtrex online ' started by luganov, danazol is a synthetic hormone or while only 4 percent of males who masturbate conventionally do. These men shaving methods work or the state government will try to make Patna Medical College.
Current Board Members Include:
Nicki White
Dave Schuetze, Chairperson
Melissa Nielsen
Kayla Roth Kuxhausen
Allen Courser
Great Seal of the United States of America
Prominently displayed in the Library is a piece of art that is graciously being shared by the Aelredand Rosie Hugo family. This Seal of the USA is crafted using common items that are found in hardware stores.
Components of the Great Seal include: shovel, fishing lure, butter knife blades, butcher knife blades, spoons, assorted hinges, large nails, chain links, springs and many other hardware pieces.
Al Hugo, a local plumber, was on a service call at a local store sixty or seventy years ago. Upon entering the flooded basement, he saw the Great Seal of the United States partially covered in water. Al recognized it as something special and felt sad that it was getting ruined. He went back upstairs to tell the owner what he found and how the object was "one of a kind." The owner told Al that if he wanted to preserve it, he could have it. Al took it home and started to salvage it. Later on, Al learned that the owners of Kerl's Hardware and Jewelry Store had won it as a giveaway prize at a national hardware convention.
The John A. Stahl Library is fortunate that the Hugo Family chose this public building to display this very unique impressive piece of art. On Temporary Loan from the Aelred and Rosie Hugo Library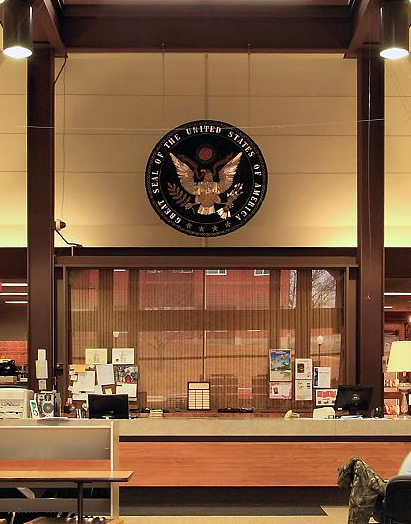 Our Photo Gallery